COVID-19 continues to spread across our country with ever-increasing levels of sickness, hospitalizations, and death. It's not going away anytime soon. Deaths from COVID are projected to exceed 340,000 people by Christmas. Infection is complicated. Prevention is critical. Yet, the simple act of WEARING A MASK is the most effective tool we currently have to stop the COVID pandemic.
 The World Health Organization (WHO) recommends that anyone with an underlying condition like diabetes, obesity, heart disease, or an autoimmune disease, and everyone 60 years old or older WEAR A MASK. More importantly, the WHO says these individuals should wear a medical-grade N95 or KN95 facemask, the most effective choice. The CDC adds that the U.S. could get COVID-19 under control in one to two months if everyone wears a mask.
We're sure you've heard this message about wearing a mask before, and, hopefully, you wear one. Perhaps you considered wearing one but need more information. Maybe you wear a mask at times but would like more options because mask-wearing can be UNCOMFORTABLE. Not all masks are EFFECTIVE by stopping droplets equally well. The following information will help you find a mask that is EFFECTIVE or COMFORTABLE and, more importantly, matches what is needed for the situation. Take a look at our 3 different mask samplers with 2 each of a variety of masks to meet your needs.
How Important Is It to Wear a Mask?
The University of Washington's Institute of Health Metrics and Evaluation projected that if 95% of the population wore masks, 66,000 deaths would be avoided by November 2020. With no national mask mandate, deaths are expected to rise further in mid-September with seasonal flu onset. Mask-wearing also would delay or avoid the need to reimpose business closures and stay-at-home orders. 
Additional simultaneous measures are essential. Social distancing, widespread rapid test results, quarantining active cases, contact tracing, and wearing masks represent today's best options to stop the COVID-19 pandemic. In the future, better medications and vaccines can aid in the eradication of this virus. Still, for now, your single most critical bet is TO WEAR A MASK.
What kind of face mask or covering should I wear?
Here's a breakdown of some of the types of common face coverings and their effectiveness. Researchers at Duke University tested 14 different face coverings to see how well they stopped the release of aerosol droplets from the mouth while people were talking.
The most effective masks fit tightly over the mouth and nose. Ones that are tightly woven and multi-layered provide the best barrier to aerosol particles.
Cloth face coverings, bandannas, and DIY masks vary in their effectiveness: Homemade facemasks covering the nose and mouth provide a barrier limiting the spread of infected droplets. These can be made of various fabrics, including cotton and silk, bandannas, scarves, t-shirts, sweatshirts, or towels. The most effective DIY masks have 3 layers of closely-knit fabric and superior filtering. 
Loosely woven fabrics that you can see the light through do not work: These will not protect you or those around you. Handkerchiefs and fleece balaclavas (cold-weather gear covering the entire face except for the eyes) offer less protection.
Surgical masks are relatively effective: These reduce the number of contaminants that mask wearers may release into the air. With elastic ear loops and accordion pleats, they fit different face shapes and sizes, are easy to put on and off, are fluid resistant, and provide protection against large droplets. Although excellent for many situations, surgical masks' looser fit cannot reliably protect against smaller airborne particles.
KN95 and N95 masks for best protection: These snug-fitting masks provide the best protection to both the wearer and others. They reduce a wearer's exposure to at least 95% of airborne particles. They can be washed and reused until too dirty or damaged. KN95 masks are tested and approved by China and have Emergency Use Authorization (EUA) by the FDA. They have been approved for use in the U.S. because of the K95 shortage. Medical staff primarily use these masks, but WHO has recommended that people over 60 and those with underlying conditions should also wear these. That approval suggests they are the best bet for protecting anyone who wears them.
How Do I Decide?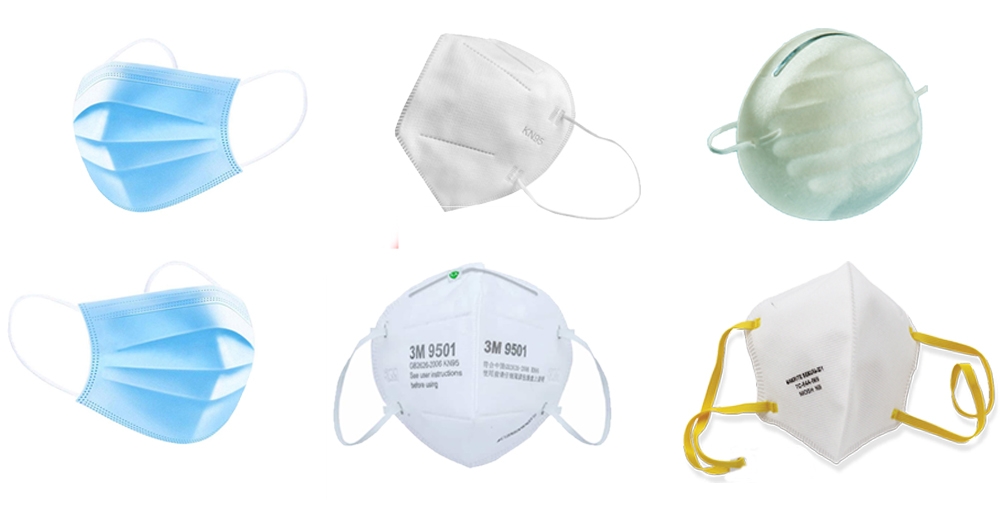 You may want several masks: one for comfort in low-risk situations, such as when shopping at a grocery where social distancing is enforced or walking in the park. You may want another to wear in higher-risk environments like getting a haircut or flying on a plane. You may prefer to have different masks in different locations like in your car, near the front door, and at work for convenience. 
To choose the best mask for yourself and those you care for, simplify your selection with one of our Mask Samplers. Three samplers include 2 samples of 4,5, or 6 different masks (8, 10, and 12 total masks). These face coverings range from 3-ply surgical for adults and children to dust masks that are 99% effective against bacteria, to two different KN95 medical masks, and high-grade N95 medical masks — all for only $20.75, $22.25, and $30.95. Try various masks for their comfort and effectiveness, and make better decisions for which mask to wear based on your exposure risk. Then select your favorites at affordable prices in quantities of 5, 10, 20, 50, or more.
Masks stop COVID cold AND protect the world, those around you, and yourself!