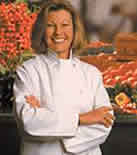 Forty years ago, while busy being a rebellious teenager, I was diagnosed with type 1 diabetes. I didn't know the difference between a carrot stick and celery rib. All that really mattered was how I could sneak a hot fudge sundae.
My years of living with diabetes has spanned the dark ages of testing urine for sugar spills with Benedict solution, an eye dropper and lab tube, and boiling steel needles and glass syringes for that OUCH shot of NPH insulin each morning, to the bright lights now on the horizon, and to oy and amazement as new discoveries emerge. Then a convenient roll of litmus paper, called Testape, revolutionized the old eye dropper method of testing for sugar in the urine, disposable syringes replaced glass, multiple injections replaced that one shot in the AM, insulin analogs swallowed old pork-derived impurities, and the truly pivotal home blood glucose meter changed all our lives.
To divert from worrying myself silly about the complexities of diabetes, I've chosen to focus on learning about what I liked …… FOOD. My new horizons of healthy living became so fascinating and engulfing that the pursuit led me to become a chef, caterer and food writer. The good news I discovered was that, yes, with a little effort, we can live very well with diabetes and enjoy the pleasure of great healthy balanced cuisine that feeds appetite and hunger, strengthens the body and satiates the spirit. The melting pot of food, glorious food, and diabetes, stirs up some interesting stories as well as easy and delectable recipes that I'll be chatting with you about, here at the Diabetes Mall.
One of the great lessons I've learned in forty years of living with diabetes is that, it's not "you are what you eat", but rather ……your blood sugars are what you eat ….. this axiom remains an integral part of how well we feel as we continue to witness progress and developments and hope for more …… And so, I invite you to stop by and visit me in the Diabetes Cyber Kitchen, where we will discuss cooking as stress buster, restaurant adventures, whole foods , the vegetarian diet, the glygemic index suicide watch list, and how to treat ourselves well with delicious, healthy, nutritionally balanced recipes that feed appetite and hunger, strengthen the body and satiate the spirit.
Judith Jones Ambrosini
603 Boston Blvd.
Sea Girt, NJ 08750
tel/fax (732) 449-9504
(212) 741-1025
e-mail: Judith Jones Ambrosini
Contributing writer to The Challenge, quarterly newsletter IDAA, International Diabetes Athletes Association. Monthly Food/Diabetes column for Diabetes Interview from March 1996 – January 99. Articles and interviews on health and diabetes have appeared in the Asbury Park Press newspaper.
Food editor for The Coast Star Newspapers since 1994. Biweekly column, The Shore Palate, written for The Coast Star and The Ocean Star.
Professional Chef and Caterer in New York for 20 years.
Former Board Member of the American Diabetes Association NY Affiliate
Jersey Shore Diabetes Center Advisory Member
Type 1 diabetes since 1960 and pumping since 1998.