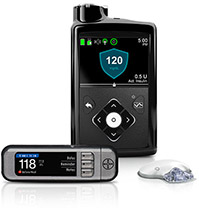 The FDA approved the Medtronic 670G Hybrid Closed Loop System in September of 2016. It was the first device approved by the FDA that can automatically monitor blood sugars and provide appropriate basal insulin doses in people 14 years of age and older with Type 1 diabetes.
The Medtronic MiniMed 670G System consists of the following devices:
MiniMed 670G Insulin Pump
the Guardian Link Transmitter
the Guardian Sensor
One-press Serter
Contour Next Link 2.4 Glucose Meter
The Guardian Sensor is the continuous glucose monitor (CGM) part of this system (inserted with the One-press Serter). Glucose trends and tracking patterns are picked up by the sensor under the skin and relayed directly to the Guardian Link transmitter. The Guardian Link collects and calculates sensor data, and wirelessly sends the data to the MiniMed 670G insulin pump. A glucose meter is needed to calibrate the CGM and validate your readings. The sensor is good for seven days of continuous use.
The key feature of this closed-loop system is its Automated Basal Delivery. As the glucose level goes up or down, the system automatically increases or decreases the basal rates every 5 minutes to drive the glucose towards a fixed target of 120 mg/dL. The user must still manually deliver meal boluses for carbs while basal rates are then automatically adjusted for any error in meal coverage. The target can temporarily be raised to 150 mg/dL for exercise and other events.
There is a safety feature that dials your basal rate down for 90 minutes if an unexpected high glucose reading occurs, sensor calibration is missed (required every 12 hours), a meal alert is missed, or a personal max basal is exceeded (see below). The 90 minutes are given to resolve the high glucose. When the high glucose is fixed, the pump switches back into auto mode. If the problem remains unresolved, the pump user is sent to manual mode.
The personal max basal is based on your total daily dose and basal rate average. It is recalculated on a daily basis. If you exceed the max basal, the pump user will be taken into safety basal mode.
Other key features include:
Suspend on Low – the system suspends basal delivery when the sensor value falls below a pre-selected low glucose value (50-90mg/dL)
Suspend Before Low – can be set to activate 5 to 30 minutes before a low is predicted
Bolus Wizard: standard bolus wizard (carb ratio, ISF, BG Target, active insulin time) in manual mode
Bright color screen for easy readability – day or night.
Waterproof
Quick and easy bolus from the Contour Next meter