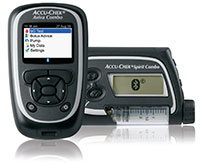 Roche acquired the durable Disetronic pump line in 2003 and then redesigned the pump and added additional features in multiple iterations. The newest, the Spirit Combo, is part of the Accu-Chek Combo Insulin Pump System. The new system includes the Spirit Combo insulin pump and the Aviva Combo blood glucose meter.
Features include:
A 315 unit cartridge that makes it easy to handle daily insulin needs as they change.
It gives you the flexibility to adjust your basal rate to as low as 0.05 units/hour—in increments as precise as 0.01 units—and as high as 25.0 units/hour.
Temporary basal rate function also lets you quickly adjust basal rate delivery to match changing conditions (illness, exercise, stress, premenstrual, etc.)
Programmable reminders make sure you take appropriate actions when needed, including being able to set a reminder for changing your infusion set.
Full-color, on-screen graphs of blood sugar and bolus data help you track your progress anywhere
The Bolus Advice function lets you use a current blood sugar reading to easily and quickly calculate and deliver a bolus with one device. It accounts for active insulin from previously delivered boluses to reduce the risk of accidental bolus stacking, which can lead to hypoglycemia. It also includes an option to deliver insulin via pen/syringe and stores that info in memory.
The Aviva Combo blood glucose meter can control the pump for you. The pump can operate independently of the meter but using the meter allows discretion and convenience. The meter screen displays your current insulin pump screen so you don't have to keep going back to your pump.
Meter and pump communicate using Bluetooth, a safe, reliable and well-known method of wireless communication.
Model
Accu-Chek Combo System
Dimensions [mm]
88 x 56 x 21
Volume
Weight [oz]
3.9 oz/110 g (w/batteries, full cartridge)
Reservoir Size
315 units
Connection
Luer Lock
Screen Size
Colors
Black (with decals, skins, and cases available)
Basal Increment
0.1u from 0.1 to 25.0 u/hr
Total Basals
24/day
Basal Profiles
5
Basal Interval
60 min
Basal Delivery
every 3 min at 0.2 u/hr
every 6 min at 0.1 u/hr
every 9 min at 0.05 u/hr
Temp Basal
in 10% increments from 0% to 250%, and 15 min to 24 hr; Adjustable from 0% – 500% for up to 50 hours with Accu-Chek configuration software
Bolus Increments
0.1, 0.2, 0.5, 1.0, 2.0 (Quick bolus)
Carb and
Correction Factors
Yes: Carb units, snack size, I:C ratio, bG target, IS factor, meal rise, insulin offset time, insulin acting time
Bolus Type
Standard, Extended, Multiwave
1u bolus duration
5 sec
Battery
AA x 1 Alkaline, Lithium or Rechargeable
Battery Life
1AA Lithium – 80 days
1AA Alkaline – 30 days
Rechargeable – 40 days
Motor
DC
Memory
Automatically stores up to 1,000 diary records with the time and date. Each diary record can contain date and time, blood glucose test results, mealtime (events), carbs, health event, bolus type and bolus amount. Displays blood glucose averages and standard deviations for the choice of time range (7, 14, 30, 60 or 90 days). Displays blood glucose record trends for the choice of time range (last 8hrs, 24hrs, 48 hrs or 7 days
Software Download
Downloads to Accu-Chek 360 Diabetes Management System or Accu-Chek Smart Pix device reader. Offer for a free copy of 360 software and cable included in each pump shipment.
Waterproof
IPX 8 rated for protection against effects of temporary immersion in water under normal conditions for up to 1 hour at a depth of up to 8′ (2.5m)
Guarantee
4 years, limited