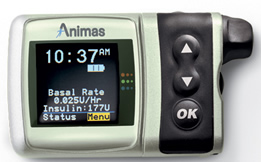 The Animas 2020 was replaced with the Animas OneTouch Ping
The 2020 is an insulin pump from Animas. While there are not many noticeable differences between the 2020 and the IR1250, it did include a couple of new features:
flat panel, high-contrast color screen, first on an insulin pump
the ability to store your last 500 carb and blood glucose values, in addition to your previous 500 boluses, 120 daily totals, 30 alarms, 60 primes, 30 suspends, and 270 basal records
You can use the ezAccess program to upgrade to the Animas® 2020. When upgrading to the 2020, the date of the original purchase of your current Animas pump will determine the cost:
If your original pump was purchased:
less than 12 months: $299.00
13 to 24 months from date of upgrade: $399.00
25 to 36 months from date of upgrade: $599.00
37 to 48 months from date of upgrade: $899.00
This program is only available for U.S. customers.
Animas 2020 Specifications
Dim. [mm]
51 x 77 x 18
Volume
4.33 ci
72 cc
Weight [oz]
3.1
Reservoir Size
200u plastic
Connection
Luer lock
Screen Size
992 sq mm
Colors
blue, silver, black, pink glow, limelight
Basal Increment
0.025u
Total Basals
12/day
Basal Profiles
4
Basal Interval
30 min
Basal Delivery
every 3 min
Temp Basal
-90% to +200% in increments of 10% for 0.5 to 24 hours (30 min increments)
Bolus Increments
0.05 visual or audio, 0.1, 1.0, 5.0 audio
Carb and Correction
Factors
yes, manual entry, assist from EZManager Plus Palm software
Bolus Type
units or carbs: standard, extended, combination
1 u Bolus Duration
1 or 4 sec
Battery
AA lithium x 1
Battery Life
6-8 weeks
Motor
DC
Memory
non-volatile: 600 boluses, 270 basals, 120 daily totals, 30 alarms, 60 primes
Software, Download
ezManager Plus and IR kit, cradle & software
Water?
12 ft for 24 hrs
Extra Features
clip-on covers, personalized carb and correction factors, tracks residual bolus insulin
Guarantee
4 years