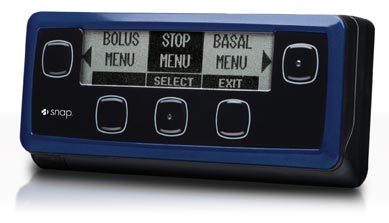 Update: The Asante Snap is no longer available for purchase:
We regret to inform you that as of Friday, May 15, 2015, Asante Solutions, maker of the Snap Insulin Pump, will be closing our doors and the company will no longer be in business. If you are a Snap user, please contact your healthcare provider with any clinical questions you have. For questions about your pump supplies, please contact the distributor that has been shipping your supplies.

If you are interested in transitioning to a new pump, we suggest you call Animas to learn more about the new Animas Vibe, which is integrated with Dexcom CGM. Animas is graciously offering a limited time offer to all existing Snap users to transition to the Animas Vibe pump. If you are interested in learning more, simply call 1-877-937-7867 x1562 or visit their website. We sincerely regret this situation.

Asante Solutions
Asante has also partnered with Tandem Diabetes to create a trade-in program for Snap users. Call (877) 801-6901 for more info.
---
The Asante Snap Insulin Pump began to ship in April of 2013, 2 years after receiving its intial FDA approval (they received FDA approval for the current version earlier in 2013). The Snap is being rolled out by region, starting in the Northeast US, with gradual availability to other regions. This allows Asante to build up their sales and service network (Similar to Insulet's rollout of the Omnipod).
Easy to Use
Asante has focused on ease of pump use and highlights how easy it is to use the Snap pump and change out the cartridge, among other things. One unique feature is that there is no need to fill a reservoir or normally prim the infusion line. Instead, a 300 unit insulin pen cartridge is slipped into the pump body and priming the infusion line is done automatically. This modular insulin pump has a main controller with a screen and directional buttons plus a disposable portion that contains the 300u insulin pen cartridge. The black and white screen has large, easy to read text, useful for people with vision problems. There are 5 buttons in total with different functions on different screens that the wearer selects.
The cartridge is replaced after all the insulin has been used or after 7 days have passed, an advantage over the 2-3 changes per week for other pumps. The Snap currently accepts the pre-filled Humalog pen cartridge but discussions are underway with Novo Nordisk to adapt the Snap to the Novolog cartridge. The Snap's auto-priming feature that makes it easier and faster to get back to pumping. When you change an infusion set but still have insulin available in the 300 unit cartridge. A fast "standard" prime is used to prime the new infusion line. Asante says these features shave 5-10 minutes off of typical set change times.
Add Quick Change Out Videos
Price
Another advantage for Snap is its starting price. Competing with a similar cost for the OmniPod starter kit, the Snap pump is priced from $600-$800, depending on your insurance carrier. This contrasts with the starting costs for other pumps that range from about $6,000 to $7,000. With an estimated 20% co-pay from insurance companies, Asante hopes this lower entry point will encourage people to start with or switch to their system. It should be noted that the disposable nature of the Snap cartridges means you will pay a larger copay for components during the devices' lifespan. If you take this into account over a couple of years, the prices do eventually even out. Asante estimates that the monthly cost of the Snap for you and your insurance company will be about $375.
A great advantage of the Snap is that you can try it before you buy it. Asante offers a four-week free trial with a month of free supplies. No deposit or insurance involvement is required. After the trial is over, you return the controller if you do not want to continue. This is a great way to really see what the pump is like and make an informed decision.
Data
Asante believes that access to basal and bolus data from the pump is critical for consumers and physicians. Rather than create their own proprietary data silo in software, they are leveraging the use of already established companies like Glooko and Diasend. Patients can use Glooko's mobile diabetes management tools for analytics, while doctors and other professionals can use the Diasend platform to download and monitor pump information in this web-based data management software.
Upgrading Info
Asante has a great upgrade plan in place to keep people using their latest pumps. For $99, you can upgrade from your current pump to the newest version available, however many times you want. Other pump companies run into the problem of having lots of users on out of date pumps. These older devices could be using old software or old components which keep users from accessing the newest features. With a fast upgrade cycle, Asante is considering inclusion of options like the Super Bolus. For example, Asante already has the data-downloadable version mentioned above scheduled for release in late 2013. CGM integration is also planned , so the upgrade price may need to be higher for this expensive upgrade. Options like this allows users to stay current with the newest features and improvements.
Features:
A 2 piece pump with a controller and a disposable pump body that each have their own batteries. Both components store the pumps settings.
Auto-priming
Lightweight (2.9 ounces)
Calculates Insulin on Board (IOB) with a choice of taking excess BOB off carb boluses (Deltec Cozmo) or not (Animas, Medtronic, Tandem Diabetes)
A proprietary occlusion technology infusion set. The connector that goes onto the pump body has an occlusion detection system that is different than other pumps' offerings. The Asante occlusion detector measures the flow of insulin into the tube, rather than just the back-pressure on an insulin reservoir.
Drop Detector Alert – in case you drop the Snap from a height of three or more feet (the FDA only requires passing a 3-foot drop-to-concrete test). An alert lets you know there might be damage that could influence the insulin delivery, and advises you to replace the disposable pump.
Water Detection Alarm – Snap is the only pump on the market will immediately alarm whe water is detected inside the controller.
A $99 upgrade that doesn't expire (CGM integration may be an exception)
No-Risk, no-cost 30-day trial
Built-in LED flashlight
Company Info
Asante Snap
877-244-8402
352 East Java Drive
Sunnyvale, CA 94089
Visit the Pump Comparison Page to see how the Snap stacks up against the competition.