Sometimes we want to stay home and enjoy a special dinner. This menu is easy to execute and when your friends or family tastes it, they will probably encourage you to quit your day job and open a restaurant. View the separate recipes or view the entire meals below.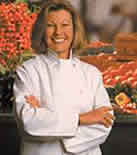 My Story
Forty years ago, while busy being a rebellious teenager, I was diagnosed with type 1 diabetes. I didn't know the difference between a carrot stick and celery rib, and all that really mattered was how I could sneak a hot fudge sundae.
My years of living with diabetes timeline have spanned the dark ages of testing urine for sugar spills with Benedict solution, an eyedropper, and lab tube, and boiling steel needles and glass syringes for that OUCH shot of NPH insulin each morning, to the bright lights now on the horizon, and to joy and amazement as new discoveries emerge. Then a convenient roll of litmus paper, called Testape, revolutionized the old eyedropper method of testing for sugar in the urine, disposable syringes replaced glass, multiple injections replaced that one shot in the AM, insulin analogs swallowed old pork-derived impurities, and the truly pivotal home blood glucose meter changed all our lives.
These days it's Miss America sporting an insulin pump, successful pancreas transplants, 4th and 5th generation pills served up in a cocktail of combinations to the ever-growing multitudes of Type 2?, and, soon to arrive noninvasive BG monitors that have entered our collective consciousness, tempering the burden of living with diabetes day in and day out.
But until someone figures out a way for us to really take a vacation, we can enjoy good food, robust exercise, and enjoy an occasional Diet Pepsi or diet Snapple, instead of the No-Cal cream soda we guzzled in the dark ages.
One of the great lessons I've learned in forty years of living with diabetes is that it's not "you are what you eat", but rather your blood sugars are what you eat. This axiom remains an integral part of how well we feel as we continue to witness progress and developments and hope for more. So I invite you to stop by and visit me in the Diabetes Cyber Kitchen, where we will discuss cooking as a stress buster, restaurant adventures, whole foods, the vegetarian diet, the glycemic index suicide watch list, and how to treat ourselves well with delicious, healthy, nutritionally balanced recipes that feed appetite and hunger, strengthen the body and satiate the spirit.
| # | Title | Recipes |
| --- | --- | --- |
| 1 | Fun Meal | Lentil Minestrone Soup, Center Stage Salad, Baked Pears |
| 2 | Restaurant Detective | Fish En Papillote, Couscous, Roasted Asparagus, Strawberries |
| 3 | Summer Grill | Grilled Veggies, Grilled Tofu, Grilled Bread, Grilled Peaches |
| 4 | Harvest Lunch | Squash Soup, Swiss Chard Tart, Fried Green Tomatoes, Apple Bake |
| 5 | Thanksgiving Feast | Cranberry Cookies, Pumpkin Mousse, Apple Pear Cake, Pumpkin Pie |
| 6 | Holiday Gifts | Gift Baskets, Parsley Oil Vinaigrette, Fresh Jam Session |
| 7 | Winter In The Pantry | Garlic Roast Chicken, A Good Loaf |
| 8 | Tuscan Bean Recipes | Ribollita Bean & Veggie Soup, White Beans |
| 9 | Diet Defenses For The Fat Fight | Vinaigrette Sauce, Pita Sandwich, Mushroom Steak, Dessert Sauce |
| 10 | Diabetes Vegetarian | Veg. Chicken Soup, Artichokes, Spaghetti Squash, Polenta Stuffed Mushrooms |
| 11 | Food & War Stories | Taylor Bay Scallops, Chili Rub Shrimp, Crab Cakes, Hummus |
| 12 | Exercise, a Functional Cure | Juicy Turkey Burger, Quick Fish Wrap, Crunchy-Smooth Slaw, Refreshing Parsley Salad, Peach and Raspberry Fool |
| 13 | Very Berry Summer | White Peach- Raspberry Fool, Blueberry Vinegar, Honeydew Soup, Blueberry Yogurt Smoothie, Whole Wheat Blueberry Kuchen |
| 14 | Palate Pleasing Pasta's | Cauliflower and Pasta, Linguine with Arugula, Spaghetti without Carbs or Calories |
| 15 | Weeknight Cooking for the Non-Cook | Mon: Linguini With Clam Sauce, Tue: Goat Cheese Omelet, Wed: Individual Meatloaf, Thur: Big Kahuna Tuna, Fri: Chicken With Balsamic Glaze |
| 16 | Better Living Through Sandwiches | French Tuna, Tarragon Chicken Salad, Italian Hero, Chock Full Of Nuts |
| 17 | Summer Exercise And Cookies | Judith's Health Nut Cookies, Everybody Loves A Brownie, Mango Banana Ice Cream |
| 18 | A Potent Elixir For All Seasons | Farm Stand Gazpacho, Arugula Lettuce With Attitude, Ricotta Cheese; For Dessert? |
| 19 | Yoga For Enhanced Diabetes Care | Kicheree, Marinated, and Baked Tofu |
| 20 | Oranges and Olives for the Holiday Season | Olivada Crostini, Orange and Olive Salad, Chicken Oranges and Olives, Mediterranean Oranges |
| 21 | All About Philosophy And Fish Soup | Bouillabaisse, Philosophical Fish Soup, Endive Salad, A Perfectly Baked Apple |
| 22 | A big fat Greek feast | Lima Bean Dip, Cucumbers and Yogurt, Spinach Rice Balls, Marinated Celery, Spanakopita, Spinach Triangles, Faki, Greek Lentil Soup, Moussaka, Moussaka, Bechamel Sauce, Souvlaki Apo Arni (Lamb Skewers), Dessert |
| 23 | Reality Sandwiches and a Dessert Party | Like A Cannoli, Fresh Fruit Gratin, Towering Napoleon, Strawberry Shortcake, 6 Baking Powder Biscuits |
| 24 | Allium Sativum, Prickly Thistle & Jicama | Sauteed Baby Artichokes, 6 Stuffed Artichokes, Sweet and Silky Roasted Bulbs, Great Garlic Bread, Jicama Salsa |
| 25 | Healthy, Delicious & Festive Latino Menu | Taco Bar, McClure's Arizona Salsa, Laria's Guacamole, Cuban Black Bean Dip, Plantanos With Mojo |
| 26 | A Cooking Class For The Odd Couple | Pasta and Bean Soup, Delicious Autumn Vegetable Stew |
| 27 | Less In, More Out | Ginger Chicken, Brussel Sprouts, Fresh Applesauce |
| 28 | Organic Living | Broccoli Pancakes, Organic Finger-Lickin' Chicken, Spring Rhubarb Cake |
| 29 | The Carbohydrate Conspiracy | Couscous and Vegetable Timbales, Spring Macaroni, Spring Risotto |
| 30 | Catching Up On Control | Seasonal Vegetable Platter, Salt Baked Fish, Italian Tuna Wrap |
| 31 | Yet Another Level | Classic Tuna Fish, Tuna Nicoise Salad, Tuna Wrap |
| 32 | A Celebration Feast For HbA1c | Easy Celebration Chicken, Gorgonzola Polenta, For the Wild Crowd |
| 33 | Morning Glories | Citrus, OatBread Pudding, Breakfast Bread, Broccoli Quiche, Egg Sandwich |
| 34 | Frozen Favorites | Frozen Grapes, Sugar Snap Beans w/ Toasted Nuts, Stuff Chicken Breast, Smashed Sweet Potatoes w/ Roasted Garlic, Stuffed Turkey Burgers |
| 35 | Life is Good | Grilled Peaches, Peach Yogurt Mousse, Fresh Peach Salsa |
| 36 | Diabetes and Happiness | Tomato Salsa with Pita Chips, Whole Wheat Pita Bread, Quesadillas, Lean Burgers, Spaghetti Marinara |
| 37 | Diabetes Advocacy | Apple Cake, Pear Cake, Apple & Pear Dumplings |
| 38 | Diabetes Library | Baked Barley, Creamy Polenta, A Bowl of Noodles, White Bean Hummus Bruschetta |
| 39 | Perennial Holiday Favorites | Curried Butternut Squash Soup, Acorn Squash With Fennel Puree, Cranberry Crunch Cookies |
| 40 | Sometimes It's A Bumpy Ride | Chicken Parmigiana, Chicken, Excellent Eggplant, Sauteed Greens and Beans |
| 41 | Positive Influences – Good Taste | Tuna and Spinach, Grilled Sardines and Fennel |
| 42 | Diabetes And The Five Tibetans | Salads, Vegetable Soup Stock, Spring Asparagus Soup, Strawberries and a Ginger Cookie |
| 43 | Diabetes in the Garden | Grilled Catch of the Day, Poached Salmon, Cucumber Sauce, Potatoes and Herb Salad |
| 44 | Diabetes: Take A Hike | Oat Bran Apple Muffins, Vegetable Bagelwiches, Grilled Wraps |
| 45 | Diabetes Care For Ordinary People | Italian Vegetable Soup, "You'll Never Eat Chicken Noodle Soup Again" Chowder, My Son's Fish Soup |
| 46 | Moving to Diabetes Tech Town | Potato Pancakes, Homemade Applesauce, Fiber Loaded Chili, Spaghetti Squash and Friends |
| 47 | Super Foods | Tuscan Style Cannellini Beans, Wild Salmon Drizzled With Mustard Sauce, Nuts and Bolts Snack |
| 48 | Almost Perfect Life with Diabetes | Vanilla Tea, Spice Tea |
| 49 | Dreams and CGM's | Quick 10 Minute Recipes |
| 50 | The Sisterhood of Diabetes | Roasted Cod, Roasted Broccoli, Roasted Carrots, Harvest Grapes |
| 51 | Just In Case…. | Easy and Robust Pasta Putanesca, Artichoke and Cannellini Bean Salad |
| 52 | Freedom of Choice | Spinach Frittata, Super Spinach Sauté, All Seasons Spinach Salad |
| 53 | A Breath of Spring | Citrus Chicken, Wild Rice Salad, Simple Spring Asparagus, Refreshing Fruit Salad |
| 54 | Daily Double Diet Watch: Diabetes and Celiac | Grilled Halibut and summer Fruit Relish, Gluten Free Fudge Brownies, Gluten Free Salmon Cakes with Ginger Sesame Sauce |
| 55 | Diabetes and Extremes | Baked Salmon with Vegetables, Broccoli and Garlic, Yogurt Parfait |
| 56 | Diabetes Made Me Do It | Basic, Classic Chili Con Carne, Chili Blanco |
| 57 | Splurging and Losing | Scones: Plain and Easy, Favorite Blueberry Corn Muffins, Wowza Winter Vegetable Soup |
| 58 | Creating a Type 2 Lifestyle | Breakfast, Lunch, Dinner or Snack Frittata, All American Cornbread |
| 59 | There's Always More To Learn | Zucchini with Mint, Fregula with Jumbo Shrimp |
| 60 | The Influence of Activity | Sauerbraten (German Pot Roast), Sweet Potato Dumplings, Red Cabbage |
| 61 | Climbing Stairs and Wild Salmon: A Common Bond? | Mustard Crusted Baked Wild Alaskan Salmon, Summer's Over But the Zucchini is Still Around Soup |
| 62 | World Diabetes Day and Pulses | Roasted Chick Peas, Lentil, and Spinach Soup |
| 63 | A Tonic for the Diabetes Doldrums | Boiled Eggs, Poached, Scrambled Eggs, Egg Salad |
| 64 | Can Someone Please Tell Me What's Going On? | Broccoli with a Kick, Broccoli, and Little Ears |
| 65 | Get Your Bones Ready to Go Outdoors | Raspberries, Almonds |
| 66 | What's Cooking? | Grilled Wild Salmon with Citrus and Fennel Relish, Mediterranean Spinach Salad, Homemade Croutons, Red and Yellow Beet Tabbouleh |
| 67 | The Energy of Diabetes | Betty Jones' Applesauce, Cider Poached Apples |