The 15 Minute Diabetic Meals cookbook by Nancy Hughes has over 200 recipes that allow you to make healthy and tasty meals almost as fast as you can eat them! By taking advantage of widely available convenience items such as pre-cooked meat and poultry and grains and fresh or frozen pre cut produce, you can make nutritious meals straight out of your freezer.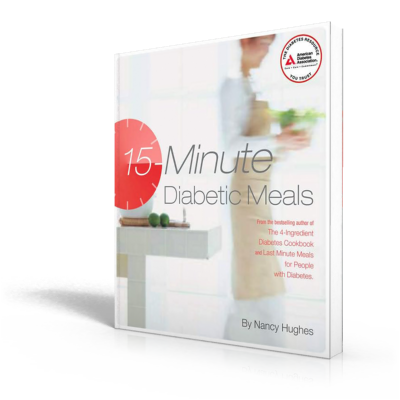 The ingredient lists are short and use items that are easily stored in your cupboards and refrigerator.
There are sections for Breakfasts, Lunches, Appetizers & Snacks, Side Salads, Meatless Entrees,
Beef, Seafood, Poulry and Pork Entrees, Side dishes and Desserts. There are Exchange/Choices listed for each recipe as well as calorie, fat (both saturated and trans fat), cholesterol, sodium, total carbohydrates, dietary fibers, sugars and protein.
Try the Shrimp on Greens with Creamy Avocado-Buttermilk Dressing? Or Grilled Chicken with Asian-Ginger Sauce? Toasted Pecan and Brown Onion Rice?
Only
$13.27
Order securely online with us or call (800) 988-4772.