One big problem with blood glucose meters has long been that you can't convert the individual readings into patterns and trends so you can figure out what to do about them. Oh, sure, many meters have software that does this in one fashion or another but downloading the data into software is often difficult because the cable you need is unavailable or lost or left at home or the office. Even a bigger problem occurs when you take the meter to the doctor's office and they don't have a cable to use to download data to software for the doctor to analyze and make recommendations.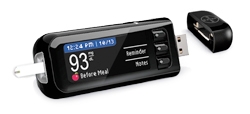 One answer to this problem is the Bayer Contour USB. It plugs right in to a PC or Mac without the need for any cables and contains—built right in—software called Glucofacts Deluxe that collects your blood sugar test results. It also has many other nice features:
No test strip codes needed
set your own target ranges
rechargeable battery – charged by included wall charger or computer
Illuminated Test Strip Port to test in low-light conditions
saves 2000+ readings, with 500 mb of extra space for other files you want to carry
save your graphed readings as a pdf and print or email them to your doctor
AutoLog feature – that lets you mark your test result as Before Meal or After Meal. You can select No Mark if you are testing at times other than before or after a meal.
set reminders and keep notes for test
High and Low Blood Sugar Alerts
The Bayer Contour USB meter has taken the standard blood glucose monitor and put it in a super small package no bigger than your standard flash drive without skimping on the features. It's important that devices for people with diabetes continue to progress and become more usable. This device is both cool and useful, which pleases kids and adults alike.
Now, you have to be wondering what a device like this cost. Many companies give their meters away when you buy test strips. Meter prices start around $10 and get more expensive as features are added. This meter has what may seem like a high price tag, but if you consider all the features and software tied in, it's worth it. A quick search online shows that the usual price for this meter is $74.99. This includes:
Blood Glucose Meter
25 Contour Blood Glucose Test Strips
Normal Control
Quick Reference Guide
User Guide
Bayers MICROLET® 2 Lancing Device, Alternative Site Endcap, Adjustable Endcap, 25 Lancets
Bayers Logbook
Carrying Case
Warranty Card
Visit our online store for great prices on Contour Test strips and lancets.