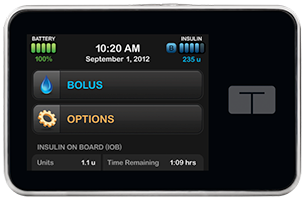 Tandem Diabetes Care has raised the bar for what pumpers will expect with their new t:slim insulin pump. Inside a sleek glass, chrome, and glossy black exterior sits a high contrast color screen with an iPhone look designed for ease and speed of use. Behind the screen is a pressure-generated micro-delivery system that allows basal rates to be ajdusted by 0.001 (one thousandths) of a unit per hour. Bolus adjustments can be made in increments as small as 0.01 (one hundredth) of a unit. Only 0.6 inches thick with a size smaller than a credit card, the t:slim fits comfortably into pockets and even into most watch pockets for those who wear jeans.
Despite its small size, a 300-unit reservoir and at least 7 days of power reside within. Very green, the battery can be recharged from a wall outlet, computer USB port, car port (adaptor included), or a solar panel. Battery use is about 10% per day and each day's recharge takes about 10 min. Many pumpers simply plug it in when they shower.
Tandem's patent-pending Micro-Delivery TechnologyTM provides a pouch inside of the cartridge to hold the insulin. Conventional pumps use a motor and gears to deliver insulin from a syringe reservoir. The t:slim applies pressure on a bladder to eliminate the motor and gears. The only moving part is the microdosing mechanism that acts to completely separate the bladder of insulin from your body, minimizing the risk of overdelivery.
The cartridge is attached to a short infusion line at the end that can attach to any luer lock infusion set. Tandem supplies 4 infusion sets: ContactTM Detach (6 mm metal – highly recommended), ComfortTM slanted Teflon set, Cleo® 90 degree Teflon autoinserted set, and the t:setTM manually inserted Teflon set.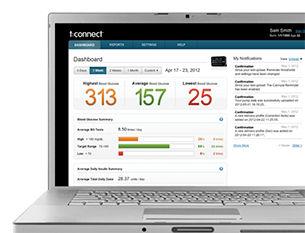 A web-based application, called t:connect, received FDA approval on February 26, 2013. Operating on a PC or Mac, t:connect allows quick and secure transfer of the last 90 days of data from the t:slim® Pump. The software is also compatible with the most popular blood glucose meters so all of your useful data can be displayed in an easily accessible manner. View Full Press Release
Work is well underway to display Dexcom G4 Platinum's accurate CGM readings on the t:slim's vivid screen, along with full operation of the CGM's settings and alerts. The t:slim nicely displays bolus (insulin) on board on the home screen. This combination may eventually allow an overlay of the residual BOB activity and mealtimes on top of the CGM display. This would allow BOB to be immediately compared with the current BG and its trend line to better avoid hypo and hyperglycemia, and give the wearer a better view of the causes and effects in daily life.
Tandem has signed an agreement with the Juvenile Diabetes Research Foundation to develop a dual delivery pump for the artificial pancreas. Because no extra motor, gears, or large reservoir are required, the unique design of the t:slim allows both insulin and glucagon to be delivered as needed to prevent hyperglycemia and hypoglycemia, while keeping the pump size to a minimum.
Tandem received U.S. Food and Drug Administration (FDA) approval on 11/16/11 to market the t:slim Insulin Delivery System. The t:slim was one of the first insulin pumps to be cleared under the FDA's new Infusion Pump Improvement Initiative. They began taking orders in August of 2012.
Features:
Small and discreet
Color touch screen with start button on top of pump and "T" home button on screen
Accurate Micro-delivery technology
Rechargeable battery – wall outlet or any USB port
All pump settings on one page – no digging through menus to find the setting you want
Very fast USB online downloads from PC or Mac with an app called t:connect, that provides customizable reports
Holds 300 units
For frequent fliers, the overdelivery of insulin that can occur with other pumps during airplane takeoff, when reduced cabin pressure pushes insulin through the infusion set, is greatly reduced
Customer Service
Fewer "how do I do this" calls in the call center means fast phone responses. Tandem's staff does a great job of helping with pump issues and in getting approval from an insurance company. The insurance application process is relatively simple, but may vary depending on your insurance provider. Those currently on a pump usually have to wait until the warranty expires, although Omnipod users may find they can apply earlier due to the different pricing structure for pod pumps.
Steps to apply for a new pump:
Complete the Patient Information/AOB Form and send it back with a copy of your insurance card. The form can be found at the Tandem site. You will be asked to fill in your information, the prescribing physician's information, and your insurance company information.
Tandem will contact your insurance company and see if you are eligible. They will contact you once they have more information.
Meanwhile, your healthcare provider will need to fill out a Statement of Medical Necessity (why you need the pump).
Specifications:
Model
t:slim
Dimensions [in]
2 x 3.13 x 0.6
Volume
5.525 ci 90.54 cc
Weight [oz]
3.95 oz with 300 u reservoir
Reservoir Size
300 units
Connection
luer lock
Screen Size [in]
2.4 diagonal
Colors
Black aluminum case with chrome trim
Basal Increment
0.001 units at programmed rates ≥ 0.1 units/hr
Total Basals
16 timed settings per personal profile
Basal Profiles
6 customizable profiles
Basal Interval
2-8 hours in 1-minute increments
Basal Delivery
Temp Basal
15 minutes to 72 hours (range: 0%-250%)
Bolus Increments
0.01 unit (at volumes greater than 0.05 units)
Carbohydrate and
Correction Factors
Bolus Type
Standard Bolus, Correction Bolus, Extended Bolus, Quick-Bolus
1u bolus duration
Battery
rechargeable lithium polymer battery
Battery Life
7 days (typically)
Motor
No motor, Micro-Delivery Technology
Memory
Up to 90 days of data (11,000 events)
Software Download
t:connect
Waterproof
watertight, 3 feet for 30 minutes (IPX7 rating)
Warranty
4 years
What comes in the package?
t:slim Insulin Pump
Protective Case with Rotatable Clip
USB Cable
Wall Power USB Adapter
Car Power USB Adapter
t:slim Reference Guide
Emergency Wallet Card
USB Memory Card
Durability
To test t:slim durability, Tandem gave 47 kids this second pump to wear for 48 hours at the 2012 Children with Diabetes Conference. The t:slim held up well under the duress of the children's testing that included water slides, being left in water overnight (pump only!), pump volleyball and weights dropped on the screen. One pump screen was cracked when two t:slims smashed against one another during roughhousing. For more information, see this video that details the t:slim's durability for a pumper named Jesse "The Pump Slayer", given this moniker by his mom after he broke 18 pumps in a 5 year period.