The OneTouch Ping was a pump from the Animas Corporation. It was a glucose management system that included an insulin pump and a glucose meter-remote. The two devices communicated wirelessly with each other. Users could calculate insulin doses and deliver boluses through the glucose meter-remote or manually on the pump.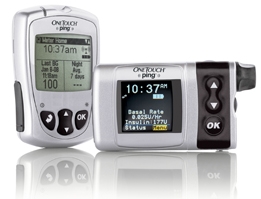 OneTouch Ping was a collaborative effort between two of the companies in Johnson & Johnson's Diabetes Care Group: Animas, which manufactures insulin pumps, and LifeScan, which makes the OneTouch brand of glucose meters and test strips.
What are the pump's features?
flat panel, self-illuminating, color screen
available in 5 colors
the pump can be clipped to a belt, tucked in a pocket or secured under clothing
waterproof in up to 12 feet of water for 24 hours
lowest basal increments (0.025 u/hr) and lowest bolus increments (0.05 u) currently available on an insulin pump
uses OneTouch Ultra test strips
works with ezManager® MAX Diabetes Management Software and is compatible with the OneTouch® Diabetes Management Software
works with Mac OSX and PCs, including Vista
built-in 500-item CalorieKing® food database
all pump accessories, except the leather case, for the 2020 will fit the OneTouch Ping
Cons
Extra device compared to Deltec, but the Deltec system is larger.
Pump is larger than small meters
Bottom Line
This is a slick system for pump wearers who want to give boluses remotely and discreetly. It brings pump wearers closer to ensuring that all boluses are read into pump data.
Model
OneTouch Ping
Dimensions [mm]
50.8 x 82.55 x 21.59
Volume
5.525 ci 90.54 cc
Weight [oz]
3.9 oz
Reservoir Size
200 plastic
Connection
Luer Lock
Screen Size
992 sq mm color screen
Colors
Blue, Silver, Black, Pink, Green
Basal Increment
0.025u
Total Basals
12/day
Basal Profiles
4
Basal Interval
30 min
Basal Delivery
Varies, 0.2 u/hr every 3 minutes
Temp Basal
90% to +200% in increments of 10% for 0.5 to 24 hours (30 min increments)
Bolus Increments
0.05 Visual or 0.1, 1.0 or 5.0 audio
Carbohydrate and
Correction Factors
Yes, carbohydrate and blood glucose values can be entered into the pump or meter-remote
Bolus Type
Units or Carbs: standard, extended or combination
1u bolus duration
1 or 3 sec
Battery
Pump uses 1 AA lithium or AA alkaline
Battery Life
4-6 weeks with lithium, 2-4 weeks with alkaline
Motor
DC
Memory
Non-volatile:

500 boluses
270 basals
120 daily totals
60 alarms
60 primes
900 blood glucose levels

Software Download
ezManager® Max downloads in 3 minutes with dongle and software that are available at Animas
Waterproof
12 ft for 24 hours
Guarantee
4 years
See information for the older Animas pumps.