Everything You Need For Success With Insulin
If you are considering insulin, beginning insulin, or have been on it for years but want to improve your control, the answers to your questions are finally here. This book by the authors of Pumping Insulin provides all the information you need to succeed on insulin.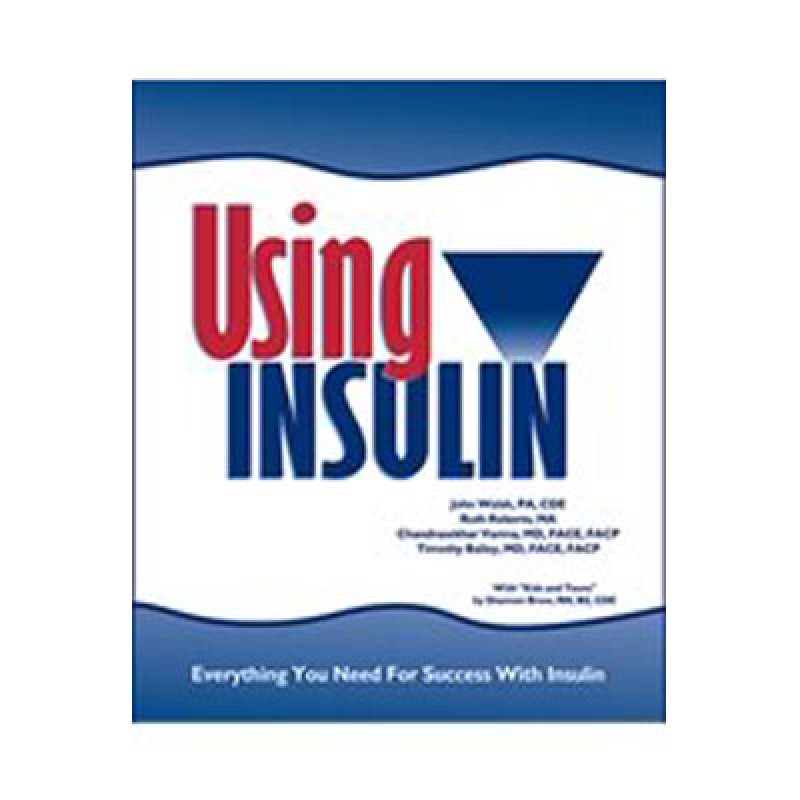 By John Walsh PA CDE, Ruth Roberts MA,
Chandrasekhar Varma MD FACE FACP & Timothy Bailey MD FACE FACP
7 3/8″ x 9″, 316 pages, 28 chapters, tables, graphs, charts, and index
Compare to $23.95 at bookstores Only $16.75, save $7.20!
Order:
Order online or call (800) 988-4772, 011-1-619-497-0900
Using Insulin provides step-by-step directions for setting and testing insulin doses, checklists for improving control, and specific examples of blood sugar management techniques. It includes advanced blood sugar charting methods, carb counting instructions, approaches to exercise and pregnancy, specific directions for children and teens on insulin, and information on how to avoid complications. Included also are specific steps for starting insulin doses, for resetting doses to improve control, and for combining diabetes medications with insulin. A great aid for anyone with Type 1, Type 1.5, Type 2, or gestational diabetes, and for any health care professional who assists people on insulin.
Contains 28 chapters, over 50 data tables, 18 graphs, 13 interactive forms, examples of every common blood sugar pattern and what to do about them, along with over 100 text aids covering the latest technologies, prevention, complications, medications and more in 340 easy to read pages.
The Diabetes Book For
everyone considering or beginning to use insulin
current insulin users who want to improve their control
physicians, nurses, dieticians, physician assistants, nurse practitioners, diabetes educators, and others who assist people with diabetes
those who want to end erratic high and low blood sugars
Improve Your Diabetes Care

how many carbs you need a day
what a normal blood sugar is
how to set a target range for blood sugars
how many injedtions to take a day
how much a lower A1c reduces the risk of complications
which basal insulin will work best for you
what an ideal A1c is
the diagnostic tests you need to prevent complications

Use A Basal/Bolus Approach For:

Better control
A freer lifestyle
Improved A1c's
Flexibility in size and timing of meals and snacks
Fewer and less severe insulin reactions
Freedom to exercise without losing control
Flexibility in travel and work schedules
Peace of mind
What people are saying about Using Insulin:
"Using Insulin is an excellent and complete source of practical information about insulin. It covers everything from counting carbohydrates and customized insulin regimens to pregnancy issues and hypoglycemia. Easily the most complete book available on this important and complicated topic."
Steven Edelman, MD, Professor of Medicine, UCSD
Founder and Director, Taking Control of Your Diabetes, www.tcoyd.org
---
"The gold standard for using insulin in diabetes has just been raised to a new level."
Cindy Onufer, RN, MA, Bc-ADM, CDE
Diabetes Nurse Specialist
---
"This book pulls you into the next millennium of insulin therapy and diabetes management. With it, almost anyone can achieve optimal blood glucose control. Congratulations on a great job."
Jean Betschart-Roemer, MSN, CPNP, CDE
Author of numerous books for and about children with diabetes
---
"Reading Using Insulin is like getting a 10-year diabetes education jump start. Complex topics are explained in simple terms. If you or your child use multiple daily injections, this is a must-have. My highest recommendation."
Jeff Hitchcock, Director and Founder, Children With Diabetes, daughter with Type 1
---
"Comprehensive and easy to read. As far as I am concerned, it is the insulin bible!"
Rick Mendosa, Author and webmaster, www.mendosa.com
John Walsh, PA, CDE, has provided clinical care to thousands of people with diabetes in various clinical settings. He has over 30 years of personal experience with multiple injections and over 20 years with pumps. He is author of or coauthor of hundreds of diabetes articles and books and is a popular speaker on diabetes topics to physicians, health professionals and people with diabetes. He is considered an authority on intensive diabetes management.
Ruth Roberts, MA, is a medical writer and educational consultant on intensive self-management. She has been involved in diabetes support groups for over 20 years, and has coauthored several books on diabetes. She is a professional member of the American Diabetes Association, has served on the Board of Directors for the International Diabetes Ahtletes Association, and is editor and frequent contributor to "Diabetes This Week", a weekly internet newsletter on the forefront of covering the latest developments in diabetes research and business.
Chandrasekhar Varma, MD, FACE, FACP, provides clinical care as a Board Certified Endocrinologist at North County Endocrine and provides rapidly evolving technology to treat common and rare endocrine disorders. Dr. Varma is also a clinical assistant professor at the UCSD School of Medicine, a member of the American Medical Association, San Diego County Medical Society California Medical Association and volunteers with the Joslin Center Diabetes Club.
Timothy Baily, MD, FACE, FACP, is Board Certified in Endocrinology. He specializes in the treatment of diabetes, osteoporosis, thyroid diseases, and lipid disorders at North County Endocrine. As a clinical assistant professor at the UCSD School of Medicine, he is active in the education of Endocrinology fellows. He is a frequent speaker to both physician and patient groups.