The meter market has been making some great strides over the past year. Telcare, based in Bethesda, MD, released the first cellular enabled glucose meter at the 2012 CES Conference. The most interesting feature of the Telcare BGM is that it works without having to plug your meter into a computer, due to its included cellular network. The other parts of the Telcare system have a number of interesting features as well.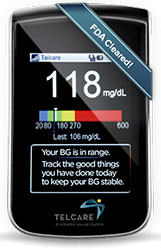 The Meter
The meter works like many others meters on the market. You take a strip, plug it into the meter, prick your finger (no info on alternate site testing), and place the drop into the test strip. The meter meets the FDA's latest standards of accuracy and reliability. Once the meter has the data, you can view the results on it's color screen. The meter will also give you some feedback telling you if you are within your preset range or averages of some of your readings. Your meter can remind you to reorder your diabetes testing supplies (test strips, lancets, etc…) before you run out. The meter will also send your data (through a free cellular network) to the mytelcare.com website and store the readings in a database. Your readings can then be accessed by you, your healthcare provider, or anyone else in your diabetes healthcare team via the web or the iPhone App. You decide who can is allowed to see your results.
The MyTelcare Site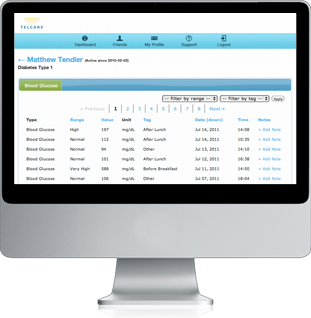 Once your data is on their server, it is accessible from anywhere in the world. The first concern this brings up is privacy and Telcare says they are HIPAA compliant with a 256-bit encryption. There shouldn't be any privacy issues but you should carefully read any agreements that pop up. All your readings are organized and viewable through a web browser like Internet Explorer, Firefox, or Chrome or their free iPhone app.
Through the site, you can view all of your readings, set up messaging options, adjust your blood glucose target ranges, or print graphs and reports. The data can be broken up into various categories, including time of day or events (i.e. Dinner). Each of the reports are printable or available to be emailed. You can give your healthcare team access to all these readings so they can provide useful feedback. If your team does provide feedback, the message is sent directly to your meter.
The Mobile App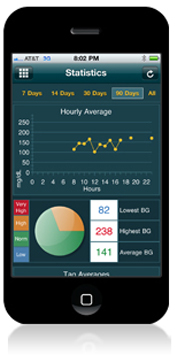 The mobile app is ideal for someone who has a child, relative, or patient with diabetes. Since this person likely does not have access to the meter, this system allows them to simply pull out their iPhone and check to see what the person with diabetes readings have been lately. Those without an iPhone can log into the website and see the readings, but the iPhone seems a lot easier to get into.
The mobile app also allows the main user to manually enter readings if they are testing with another meter. Manual entry is always risky since there isn't a way for a clinician or parent to confirm accuracy. It will be important to see if manual entries are marked differently so they are easy to spot and question. Those with a Telcare meter will have their readings automatically sent by the meter.
The app starts with a basic sign up form. We haven't been able to find a sign up form on the main website so it looks like this is the only way to complete the sign up process. You must enter your email, password, birthday and the number of test you plan to take a day.
Pricing
There are 2 price points for this. The starter kit contains a meter, wall charger, case, and accessories. It is priced at $150. A subscription plan is available that will drop the meter cost to $100 if you sign up for a 1 year supply of test strips. The test strips are $56 for 50 normally and only $36 on the subscription plan. At $56, it would the most expensive strip in our store, the Diabetes Mall.
Questions & Concerns
Server uptime is an issue with any web based service. If their service becomes popular, the servers will need to be fairly powerful to handle all of the request. Server downtime when a patient is trying to upload their readings could be a big hassle.
I'm also curious about the sign up process and what information they'll require. Will I need a prescription to sign up or have my doctor start the service for me?
Compared to other meters (some of which are available for free), the Telcare has a fairly high price tag. Recurring test strips sales are where the bulk of money is made in the meter market. If you consider that you are paying for entry into their Telcare system and receiving free cellular transmission, the price doesn't seem as bad but it may turn off buyers who simply compare pricing.
Bottom Line
This system sounds like it will be easy to use. They take care of the hard part of getting readings to other people who need to see them. Parents and caregivers will feel more empowered with this access. Making this process easier can encourage people with diabetes to pay more attention to their readings, which usually leads to better management.
Update
12/09/13 – Telcare announces a partnership with Health Dialog, a diabetes management system. Telcare's blood glucose monitor will integrate with Health Dialog's diabetes management program so caregivers and providers have online access to the same results, allowing them to easily analyze the data and get alerts about potential patient complications.