Since 1995, Sensys Medical, Inc., formerly Instrumentation Metrics, has been focused on advancing technology for non-invasive blood glucose monitoring. The Company intends to commercialize a device that will dramatically advance the practice of blood glucose monitoring and the science of diabetes disease management.
They are developing a non-invasive glucose monitor which uses near-infrared Spectroscopy called the Sensys GTS™. Based on independent data collected with a research grade device. Sensys says it has validated near-infrared spectroscopy as a technology platform for it's non-invasive glucose monitor.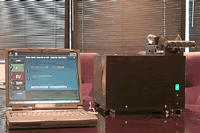 The obstacle Sensys now faces is the transition from a research grade device to a commercial device. There are still many concerns as to the accuracy of a consumer operated device. Efforts are leaning towards design improvements and proper training to insure ease of use by individual patients.
General problems for the device start with the sample itself, skin. The interfacing layers of skin contribute to the variable reflection and refraction of light. Skin roughness also causes large specular reflectance. Changes in skin over time will also be a concern, as well as skin temperature changes.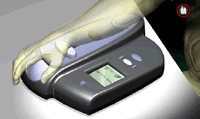 Sensys' response to these problems include an improved probe design, which will target the dermis skin layer containing the appropriate glucose concentrations for measurement. Improved data processing and calibration measures are essential to the success of this technology. Two control procedures will also improve overall reliability of test results. Control 1: the control of several skin properties. Control 2: use of a proprietary positioning system to reduce spectral variation.