Everything You Need For Success With An Insulin Pump
Pumping Insulin is a complete guide for achieving excellent control on a smart insulin pump. Pump users and health professionals will benefit from comprehensive, easy-to-use information, focused on the latest features in today's insulin pumps and CGMs. Get the most out of your pump!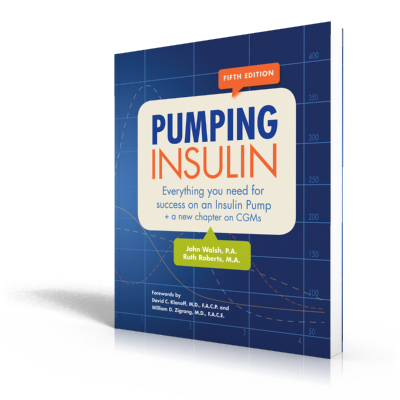 New chapter on CGMs and pumps. Updated chapters on pumps specific to children and teens, pregnancy, exercise and Type 2's. Over 185 useful tables, figures and examples. How to use software downloads and log books to spot patterns and improve control.
by John Walsh, PA and Ruth Roberts, MA
7 3/8" x 9", 324 pages, Over 185 helpful tables, figures, and examples
Only $19.55, save $8.40!
Order:
Order Securely Online or
print our Order Form to mail or fax or
call (800) 988-4772, 011-1-619-497-0900
In this book, you'll find:
New ways to find TDD (total daily insulin dose), basal rates, carb/correction factors and boluses.
Ways to stop high & low blood sugars
New findings on duration of insulin action and bolus on board
The best information about Bolus Calculators and how they work
Useful ways to recognize glucose patterns and correct them
Great info on using Symlin & GLP- I agonists with pumps
Plus…
How to use a CGM with a pump
Carb counting (over 300 carb percs)
How to reduce glucose variability
Pump use for children and teens
How to adjust carbs & insulin doses during exercise
Pump use during pregnancy
---
Praise
"A comprehensive text for both novice AND seasoned pump users who want to achieve greater independence in care and management of their diabetes. What an amazing resource!!"
"The newest edition of Pumping Insulin truly gives the state of the art, up-to-date, review of practical information for any person with diabetes considering pump therapy. I recommend it to current pump users who want to fine-tune their control, and professionals interested in insulin pumps. It is packed full of good information and I learned a lot. Pumping Insulin is easily the gold standard."
"Diabetes is NOT for dummies… this book will measurably raise your diabetes IQ and lower your A1c. Pumping Insulin distills extensive professional knowledge and personal experience of advanced diabetes care into bite-sized wisdom available no where else. Don't leave injections without it !"
"If you use an insulin pump or are thinking about getting one, you'll want to have this book by your side to guide you every step of the way."
"This new edition of Pumping Insulin is a great tool for both patient and professionals interested in pump therapy. The book is full of practical and user friendly information to help patients be successful pump users. I recommend it to my patients and use it along with them."
"Reading this extremely well written book is a pleasure. Whatever you wanted to know about insulin pumps you can find here. It is impressive to "feel" the passion of the authors to help patients with diabetes use what they regard as the best way to take insulin.
Reading this book takes away the fear of using an insulin pump. You have the feeling you are the master of the technique and not the other way around. This book is very helpful for getting an excellent start, for answers when you are using your pump and for all the little tricks that you need to become an "expert" with your insulin pump. "
"This edition is exceptional! All topics are included for pump therapy and CGM. This book offers the patient the ability to be in complete control of their diabetes with the appropriate knowledge."
"Dr. Elliott Joslin said, "The person with diabetes who knows the most lives the longest." For insulin pump users, the best way to know the most is through Pumping Insulin, the definitive reference by John Walsh and Ruth Roberts. Today's pumps are so much more than just basal rates and meal boluses. Pumping Insulin helps every pump user get the most out of their insulin pump. This is one of the very few must-have books in diabetes care."
Many of the challenges of managing diabetes can be overcome by the use of an insulin pump – it can be a liberating experience for someone on years of injection therapy. However, both successful diabetes management and successful insulin pump therapy require an organized, long-term commitment to learning. This book stands out as it shows us the necessary logical steps to navigate the breadth and depth of knowledge needed to succeed.
---
About the Authors
John Walsh, PA, has provided clinical care to thousands of people with diabetes in various clinical settings. He is author of or coauthor of hundreds of diabetes articles and books, a thought leader in diabetes technology, and a popular presenter on diabetes topics to physicians, health professionals, pharmaceutical companies and people with diabetes. His various powerpoint presentations are available on our site. He consults and sits on the Advisory Board of several pharmaceutical companies. John also conducts research on how insulin pumps are used to assess the quality of diabetes education and the ease, convenience, and effectiveness of pump features as well as assessing continuous monitors and their effectiveness. He is considered an authority on intensive diabetes management. John also works at Advanced Metabolic Care + Research (AMCR). AMCR is recognized as one of the leading endocrinology centers in Southern California.
Ruth Roberts, MA, is a medical writer, editor and educational consultant on intensive self-management. She has been involved in diabetes support groups for over 20 years and has coauthored several books on diabetes. She is a professional member of the American Diabetes Association, has served on the Board of Directors for the International Diabetes Athletes Association. She manages business matters and product development for the company. Her expertise in presenting complex information in a clear, easy-to-read format benefits our publications. She worked for 20 years in academic teaching and corporate training before developing the company.
Visit our Pump Comparison page or take a look at Each Pump .