Insulin pens are a great way to inject insulin. They are convenient and easy to carry. Keeping track of the last time you injected insulin is what's been missing from insulin pens for a long time. Of course, we should be jotting down our times and amounts in a logbook to avoid double injections. Insulcheck has created an insulin pen attachment that tracks when you last injected insulin from your pen.

How does it work?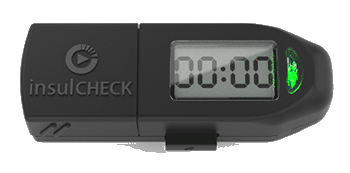 You are given a clear sleeve that should snap or slide right onto your pen. The InsulCheck display attaches to your pen by sliding onto the clear sleeve. Once the InsulCheck is attached to the sleeve, it automatically resets itself. From there, you just use your pen as normal. When it detects an injection, the indicator light will flash to confirm and reset the timer. The next time you go to inject, it will show you how long it's been since your last injection. Overall, it's a very simple process. Installation time is short, the weight difference is negligible, and it doesn't impact your use at all.
Insulcheck recently updated the device with some great updates:
High and Low temperature warnings that trigger when the device (and consequently the insulin) is exposed to high or low temperatures
InsulCheck Classic now warns you when the battery needs replacement
support for the Lilly Savvio range of insulin pens to our existing range of supported pens
The Insulcheck currently works with the:
Disposable Pens
Re-Usable Pens

Savvio
Novopen 4
Luxura
ClikSTAR
Novopen 3
For additional information or to purchase the InsulCheck, please visit www.insulcheck.com.
You may also be interested in the Timesulin Cap and the Pendiq Digital Insulin Pen.