DiagnOptics is the inventor of a diagnostic device that can non-invasively diagnose one form of damage caused by high glucose levels and relate this to the risk of diabetes and its complications. Headquartered in the Netherlands. Dr. Andries J. Smit and his co-workers found increased autofluorescence of the skin in many diabetes patients when they were performing fluorescein capillary leakage studies in diabetes. By 1998, they had developed the Advanced Glycation Endproducts (AGE) Reader™, a state of the art diagnostic device which can determine the tissue accumulation of AGEs in about 30 seconds. AGEs contain permanent glucose cross-links between a wide variety of protein structures, such as skin, collagen, tendons, vessel walls, and hemoglobins. Hemoglobin A1c is an AGE that is commonly measured in the blood.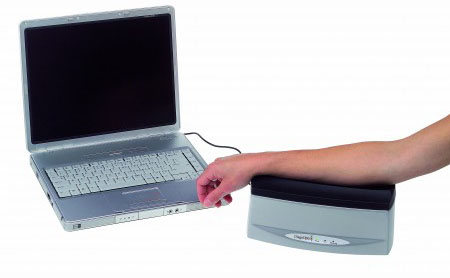 The AGE Reader by DiagnOptics
Dr. Smith began the first clinical studies in diabetes and renal failure at the University Hospital in Groningen. After filing the patent application for the AGE Reader™ in 1999, DiagnOptics was established in 2003, and CE certification for the AGE Reader™ was received in 2006. Currently, the company is working on obtaining additional regulatory approvals in other regions and is engaged in new product development activities.
About A.G.E. (Advanced Glycation Endproducts)
AGEs are key players in glycemic and oxidative stress and have been shown to be an important indicator of many age-related diseases, such as atherosclerosis, diabetes, renal failure, and Alzheimer's. The amount of AGEs in tissue serves as an important risk predictor of diabetes and its complications.
AGEs normally accumulate with aging, but this process occurs more rapidly when glucose levels rise and in renal failure. The accumulation of AGEs can initiate a wide range of abnormal responses in cells and tissues such as an increased burden of death and diseases of heart and blood vessels. Skin AGE's, determined in skin tissue samples, correlate closely with early kidney, eye, and nerve disease in patients with diabetes.
AGE Reader Technology
Prior to the development of the AGE Reader, it had been complicated to measure tissue AGEs because existing methods were expensive, time-consuming, lack specificity, are poorly reproducible, and/or are invasive. Although there is currently no gold standard for AGEs measurements, the AGE Reader™ is the only diagnostic device that non-invasively diagnoses and assesses the risk of diabetes and its cardiovascular, nephrological, and neurological complications through measuring tissue accumulation of AGEs. It provides information so the physician can focus treatment on patients with the highest risk of complications.
A light source excites fluorescent moieties in the tissue of interest which then emits light of a different wavelength. In the wavelength band that is used, the major contribution in fluorescence comes from fluorescent AGEs linked mostly to collagen, but also to other proteins and lipids. The emitted light is detected using a spectrometer. By using specific technical adaptations including a selection of specific wavelength, modulated or pulsed light sources, more selective discrimination of specific AGEs can be obtained.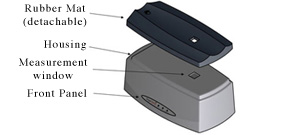 The AGE Reader™ system consists of the following components:
Main housing
Rubber mat
Power cord
USB cable
Software
For more information, contact DiagnOptics.