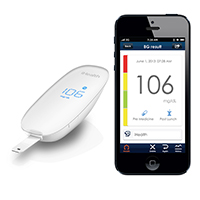 The iHealth Smart Gluco-Monitoring system is a wireless glucose meter that communicates with a Bluetooth enabled mobile device to send your readings to the cloud. The meter is made by iHealth Lab Inc, a tech company based in California, that makes many health related products, including scales, blood pressure monitors and activity trackers.
The Meter
Unlike traditional meters, the iHealth has a sleek, almost pod like form with a LED display for showing the readings. The meter is compact at 3.8''× 1.35''× 0.75'' (90mm × 34.5mm ×19mm). It uses iHealth test strips, purchased on their site, which require a 0.7 micro liter blood sample.
The meter can be paired with different Apple devices, including the iPhone (3GS +), the iPad (2 +), the iPad mini, and the iPod touch (4th generation +). The meter can still be used when it isn't near the device it's paired with and will store up to 500 readings. Once the two devices are in range, the meter data is synced to the mobile device.
The App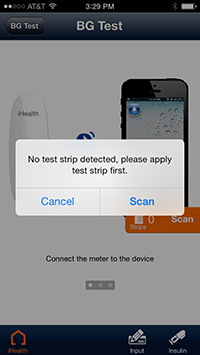 iHealth has a Gluco-Smart app that logs all of your readings automatically from the iHealth meter or by manual entry if you use another meter. When you first use the app, you will need to register for a free account by providing basic information: name, email, password, gender, height and weight. Once logged in, you'll see a big blue button that says "Start" on the device. You can begin your test. If you have the iHealth meter, you'll want to connect to your Apple device now. If you don't have the meter, you'll see a prompt that reads "No test strip detected, please apply test strip first." with options to Cancel or Scan. (You will see this prompt every time you go to the testing screen. We haven't found a way to turn this prompt off, unfortunately.) If you have the meter you'll want to choose Scan. You will use the QR scanner, included in the app, to automatically register your vial of strips. By scanning the top of your strip vial, the app will keep track of the number of strips used as well as keep an eye on the expiration date of your test strips.
If you don't have the meter, you can hit Cancel and click the small Input button in the bottom right area. From there, you can manually enter all of the information from your test on another meter. You can enter old readings by changing the date, otherwise it will use the current time and date. Once finished, click Done and your readings will be posted. You can also enter your insulin doses and medications, reminders, target ranges, and email results (as a data table or a graph) or share them to social networks. You can view all the readings you've taken in the History section of the app. This area allows you to see all of your recent readings, 7- 14- 30- or 90 day statistics (including averages and number of test), a trends graph, and insulin doses.
The Cloud
iHealth has a free cloud service that allows you to store and access your data. You can store data from any of their medical devices and view them on their site on your computer as well as your mobile device. You can see all of the information you see in the app and perform many of the same functions in a normal web browser.
The graphs are the best part of the site, as they are larger on a computer screen than on your typical smart phone. Although you can enter information here, I don't see a way to change from mmol to mg/dl. You'll also be able to see information and statistics from their other devices.
You can also share data via email here. After choosing a range of dates, you can send graphs and CSV (Comma Separated Values) files of your readings. The CSV files are important because app developers will be able to take the data and input them into other systems, like Tidepool when it is up and running.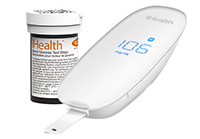 The Cost
The meter costs $80 for a kit that includes the device, 50 strips, a lancing device, lancet, control solution, usb charging cable, travel case and two manuals. More strips cost $50 for a packet of 50, before insurance.
The Minuses
The iHealth meter is not the most accurate one on the market and would not be appropriate for pregnancy or for someone using an insulin pump or bolus calculator. The app lacks user friendliness and does not follow application norms in a number of places. Buttons are not obvious and going back is impossible from some areas, requiring you to go all the way back to the home page. There is no way to tell the app that you will only be doing manual inputs so that you are not continuously prompted to sync with a meter you do not have. This quickly became very annoying.
All in all, this system is an interesting early cloud enabled app. We suggest waiting for an update for this early entry into mobile glucose tracking.