The Scout DS is a non-invasive, near-infrared screening device for pre and Type 2 diabetes. Described as an optical skin test, the goal is for the device to replace conventional screening so no blood is drawn or fasting is necessary. The technology is based around detecting Advanced Glycation End Products (AGEs) in the skin. AGE levels are typically higher in people with diabetes. Previous testing of AGE values were done using a punch biopsy of the skin and only a few labs could actually complete the test. Veralight has made the process simpler and less painful with the Scout DS. Here's an excerpt from the Veralight site explaining how they overcame these testing issues:
"AGEs have a robust optical signature that can be detected and measured via spectroscopic analysis. However, prior to the development of proprietary spectroscopic detection technology by VeraLight, no one had determined how to normalize this signature for variations in skin color, blood content and structure, which prevented its practical use as an accurate, reproducible screening test.
Collagen, the main protein of skin and connective tissue, readily undergoes glycation resulting in AGE formation. VeraLight's technology employs quantitative fluorescence spectroscopy to non-invasively measure collagen cross-links and other fluorescent AGE that can be correlated to a quantitative risk score for prediabetes or type 2 diabetes. VeraLight's technology uses various wavelengths of near ultraviolet and blue light that illuminate the subject's skin. The illumination excites electrons in the collagen-linked AGE and causes them to emit light that is measured by Scout DS."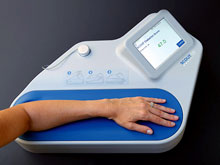 The patient simply places a forearm on the portable table-top unit. The light shines into the skin and a small amount of that light reflects back. The reflected light is analyzed by the spectrometer and measured for differences from the original light. These differences help determine if the patient has pre or Type 2 Diabetes. The results are reported in under four minutes. At this stage, the process is still just a screening. Additional, more precise testing will be needed.
Veralight received the CE mark of approval for the Scout DS in July of 2011. They signed a distribution agreement in Canada with Pear Healthcare Solutions in August of 2011 and received approval in Mexico of May 2012.
In April of 2013, VeraLight announced that it will be acquired by Miraculins, a biotechnology company that specializes in acquiring, developing and commercializing diagnostic tests and risk assessment technologies.
About Veralight, Inc.
VeraLight, Inc. was established in 2004 as a spinout of Inlight Solutions to focus on a comprehensive approach to noninvasive diabetes screening. It is led by former Johnson & Johnson executive David Van Avermaete.
You can follow the latest news from VeraLight at their website.