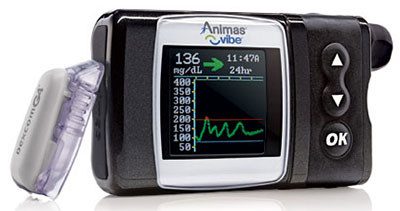 The Animas Vibe is an insulin pump with a built in Dexcom Continuous Glucose Monitor. Although there is a pump-only version of the Vibe available, the combination of the pump and monitor are what makes the Vibe stand out. The Vibe, alone, is basically the Animas 2020 pump platform from a few years ago.
The Vibe has been available in the UK since 2011. Johnson & Johnson finally submitted the Animas Vibe to the FDA in April of 2013. The new G4 Dexcom sensors were originally thought to be the main factor holding back submission to the FDA but the G4 platinum sensors were approved back in October of 2012. It is now available in US. 
What are the pump's features?
High contrast color display
customizable food database
basal increment of 0.025u/hr
up to 4 different basal rate profiles
doses of 0.05u
ezCarb setup to help calculate bolus amounts to cover carbs
ezBG setup to automatically calculate correction dose based on a bg reading
Insulin on Board to track active insulin
battery lasts for up to 3 weeks.
waterproof at 3.6 meters for up to 24 hours
uses standard, luer lock for infusion sets
use of Diasend, Animas' web based data storage system. The vibe can send all it's information up to the web site where it can be charted, graphed, or reviewed by you or your healthcare provider. The software is both Mac and Windows compatible.