Updated for Dexcom Share FDA approval DexCom, headquartered in San Diego, California, is focused on developing technology for continuous glucose monitoring to improve the lives of people with diabetes. Their DexCom STS system was approved by the FDA on March 27, 2006. Since then, Dexcom has upgraded their system to the new Dexcom G4 Platinum. In February of 2014, the FDA approved a pediatric version of the G4 for children ages 2-17. The sensors may be placed in the upper buttocks or abdomen for children but parents are cautioned to not depend solely on the CGM for readings.
DexCom, headquartered in San Diego, California, develops continuous glucose monitoring technology that improves the lives of people with diabetes. Their first DexCom STS system was approved by the FDA on March 27, 2006. Ongoing upgrades to their technology have now produced the Dexcom G4 Platinum that is considered to be the most accurate CGM system at this time.1,2 Dexcom Share, basically a bedside device that not only charges the G4 but also transmits the user's glucose readings from a nearby iPhone to any other iPhone, was approved on Oct. 20, 2014.
The Gen 4, approved for ages 2 and older, may be used for children by placing the sensors in the upper buttocks or abdomen of the child but parents are cautioned to not depend solely on the CGM for readings.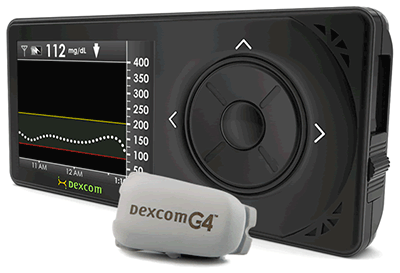 The Dexcom G4 Platinum ships with:
The G4 Platinum Transmitter – discreet, wireless transmission up to 20 feet, gentle adhesive
The G4 Platinum Receiver – 4" x 1.8" x 0.5", color screen, new shape, stores 30 days of data, data is downloadable to a computer
USB charging cable and charger
receiver carry case/belt clip
Dexcom Studio Software
User's Guide
Tutorial Disc
The Dexcom G4 has a tiny flexible wire sensor that goes under the skin inside a 26 gauge needle that is easy to insert with a disposable applicator. The design of the applicator allows nearly painless insertion of the needle that the applicator withdraws, leaving behind the wire sensor under the skin. Sensors are sold separately from the monitor in packs of 4.
Additional features:
Trends are shown in hues of yellow, red, and white for quick recognition of highs, lows, or good readings
Custom tones and melodies available for high or low alerts
Receivers come in Classic Black, Tickled Pink and Ocean Blue
Dexcom is working with Animas and Tandem insulin pump companies to move the CGM display onto the pump screen, both of which are in color. Asante and Omnipod will work with Dexcom's G5 device in the future that will transfer CGM readings to smartphones using Bluetooth Low Energy. For pump wearers, these approaches eliminate the readout device, although two skin sites are still required, one for the glucose sensor and another for the infusion set.
Dexcom Studio Software
Dexcom Studio software allows the readings collected from your Dexcom receiver to be viewed and analyzed. Just hook your receiver to your computer with the enclosed USB cable to launch Dexcom Studio and pull off any new readings. The receiver can hold up to 30 days of sensor data. Once full, the oldest records are deleted to make room for new readings. Plan to upload your data every 3-4 weeks to ensure all sensor readings are included in your charts and reports, rather than being lost. Dexcom Studio is currently compatible with Windows but does not run on a Mac.
Dexcom Studio features include:
Dexcom Portrait Report -Summary statistics of overall glucose control with clinical assessment notes.
Hourly stats – All-in-one report to easily assess glycemic patterns and variability at the same time.
Daily trends – Overlapping days to assess glycemic patterns.
Glucose Distribution – Shows percent time high, low and in target glucose ranges and overall glucose distribution. Assess pre- and post-prandial control by comparing pie chart distribution.
Glucose Trends – Report to review daily glucose trends, event markers and correlation between SMBG and CGM. Daily Strip Print feature prints daily glucose trends with a touch of a button.
Daily Stats – Review percent time spent high, low and in target glucose ranges by day.
Success Reports – Compares glycemic control weekly, monthly or quarterly.
Dexcom Share
The Nightscout Project has demonstrated that CGM data can be shared in real time with others. Dexcom has taken the next step by getting FDA approval for the Dexcom Share device in October 2014, after submitting it to the FDA for approval in July of 2013. Share is the first FDA-approved device that allows CGM readings to be remotely viewed, and promises to be a great help to parents, partners, and physicians of people with diabetes.
Share is a cradle-like device that you plug your Dexcom receiver into. The cradle, however, must be plugged into an electrical outlet to transmit your data via Bluetooth to the Dexcom Share App on an iPhone (4S or later) or iPod Touch (5th generation or later). You may only pair one device with the cradle at a time. The system is not yet available for Android phones. Readings can then be sent from the cradle to the cloud and be accessed by a family member or friend's iPhone or iPod once they add Dexcom's Follow App and once you give them permission to do so. The share app has to be running in the foreground or background to receive data. You are able to invite up to 5 people to receive CGM data from your Share device. The received data is completely programmable, allowing those who receive your data to choose exactly which information they would like to be notified about.
The Share sells for $299, less than one tenth the cost of Medtronic's mySentry remote CGM receiver that does not offer Bluetooth or connectivity to the cloud. You do not need a prescription for Share but insurance companies are not yet covering the device so expect to pay out of pocket. Take a look at the Dexcom Share FAQ for more info.
1 V. Matuleviciene, J.I. Joseph, M. Andelin, I.B. Hirsch, S. Attvall, A. Pivodic, S. Dahlqvist, D. Klonoff, B. Haraldsson, and M. Lind. A Clinical Trial of the Accuracy and Treatment Experience of the Dexcom G4 Sensor (Dexcom G4 System) and Enlite Sensor (Guardian REAL-Time System) Tested Simultaneously in Ambulatory Patients with Type 1 Diabetes. http://online.liebertpub.com/doi/full/10.1089/dia.2014.0238