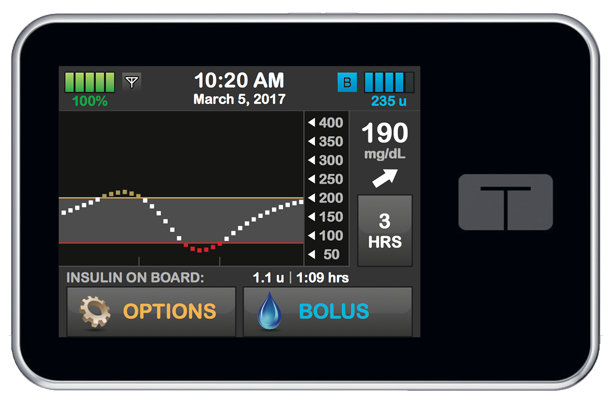 Tandem's newest insulin pump, t:slim X2 Insulin Pump with Dexcom G5 CGM was approved by the FDA in August, 2017. The Dexcom G5 is currently the most accurate CGM on the market, and the only integrated CGM approved for making dosing decisions without pricking your finger (except for daily calibrations). and will soon be followed by the G6 CGM that will have greater accuracy, no Tylenol interference, and may eventually require no calibrations. Besides the simplicity of its color touchscreen interface, the X2 is the only pump that allows remote software updates. This allows users to automatically upgrade the pump software without waiting for their insurance to approve a new pump body 4 to 5 years later.
As new CGMs are developed and approved, they can be quickly integrated into the X2 pump using the Tandem Device Updater app. This type of updating eliminates the need to replace the insulin pump itself in order to use the latest software or a newer CGM system. No longer do users need to wait out the typical four-year warranty to keep updated with the latest technology.
The t:slim X2 is the only available pump that conveniently displays a user's insulin delivery activity, specifically insulin on board and time remaining, on the same screen as the Dexcom G5 CGM data. Dexcom is the most used and most preferred CGM in the world with their G5 Continuous Glucose Monitoring System that received FDA approval in 2015. The G5 sensor's more accurate Dexcom CGM algorithm requires two fingerstick calibrations a day and is only matched in accuracy by 3-4 calibrations a day with Medtronic's new Guardian 3 sensor. CGM and IOB information from both devices is displayed on a single t:slim X2 screen to improve insulin dosing decisions. Data can also be displayed on any compatible mobile device and readings shared with caregivers and family.
The new Dexcom G6 received approval in March 2017 and is expected to start shipping at any time.. It features a color touchscreen, 30% thinner transmitter profile, 10 day wear, new predictive glucose alerts up to 30 min. in advance, compatibility with acetaminophen, a new one-button inserter, and only 1 calibration a day with possibly no calibration by late 2018.
Updates on the Horizon
Tandem has software updates in the pipeline. One is their Predictive Low Glucose Suspend (PLGS) algorithm called Basal-IQ that uses CGM data to predict hypoglycemia at least 30 minutes in advance and turn off basal insulin delivery. The system's basal adjustments minimize the frequency and duration of hypoglycemic events. According to Tandem, the predictive algorithm was developed internally in consultation with thought leaders in Automated Insulin Delivery and Artificial Pancreas research. Pending FDA approval, Tandem's goal is to launch PLGS sometime in the summer of 2018. The PLGS component allows users to deliver appropriate bolus doses for meals with far less fear of experiencing hypoglycemia.
Tandem is also actively testing Control-IQ Technology, a Hybrid Closed Loop (HCL) with TypeZero Technologies and Dexcom. Based on algorithms developed by TypeZero's initial research at the University of Virginia, the technology has been tested in more than 28 clinical studies with 475 participants. They are working to integrate their technology into the NIH-funded International Diabetes Closed Loop (IDCL) Trial. Tandem is working on directly integrating the data from a Dexcom G6 sensor and TypeZero's inControl algorithm into the pump's touchscreen interface. Their launch goal for this system is first half of 2019. The Type Zero system differs from Medtronic's 670G in that it can deliver a correction bolus and increase basal insulin delivery to more rapidly correct high glucose situations compared to the Medtronic System where only the basal insulin delivery is increased.
The X2 pump was designed to handle software updates like these without any alteration to the pump itself. The Tandem t:slim pump boasts many unique features and implementations:
• Bright color screen, only touchscreen available
• 38% smaller than other pumps
• Watertight
• Durable and light aluminum case
• Rechargeable battery
• 300-unit reservoir
• Micro-Delivery® Technology
• Insulin on board always clearly visible on the main screen
• Capable of remote software updates
• USB Connectivity: Convenient for charging your pump and uploading data information via t:connect
• micro-USB port for near charging and fast data transfer speeds
• Bluetooth Radio: Communication capabilities with compatible devices and future devices.
• Programmable high and low CGM alert settings for notifying you when your glucose is above or below your personal target range
• Color-coded trend lines make it easy to spot trends at a glance.
• Current glucose value tells you where you are now.
• Trend arrow helps you catch high and low glucose levels before they happen
• t:connect® Diabetes Management App
T:connect Diabetes Management App
The t:connect app provides access to the data on the X2 insulin pump, Dexcom CGM, and various glucose meters (OneTouch® Verio® IQ, OneTouch UltraMini®, OneTouch Ultra® 2, FreeStyle® Lite®, FreeStyle Freedom Lite®, Accu-Chek® Aviva, Accu-Chek Compact Plus). Compatible with Macs and PCs, you can create insightful charts and graphs that help uncover significant trends and make adjustments. There is also built-in support for allowing family, friends, and/or healthcare providers access to your readings.
Tandem Device Updater App
This app is compatible with the t:slim and t:slim X2. The update for the X2 allows you to view Dexcom G5® Mobile CGM information directly on your pump screen. Watch the video below to see how you can update your insulin pump.
Infusion Set Changes
Tandem decided to create a proprietary connector for its infusion sets: the t:lock™ Connector. This connector reduces fill time by 30 seconds and lowers the amount of insulin used in the fill process by 4.4 units. While it is a new design, it looks, feels and functions in a very similar way to the original Luer-lock connector.
Tandem's infusion sets include:
AutoSoft™ 90 Infusion Set (formerly the t:90 infusion set) 90° flexible soft cannula, Automatic insertion, Reversible connector, Transparent window at the insertion point, Available in Blue, Pink, and Grey, 6-9mm cannula, 23" and 43" tubing
Autosoft™ XC (formerly branded Inset™) 90° flexible soft cannula, Automatic insertion, Reversible connector, One-handed insertion to help reach more site options, Transparent window at the insertion point, Available in Blue, Pink, and Grey, 6-9mm cannula, 23" and 43" tubing
AutoSoft™ 30 Infusion Set (formerly the t:30 infusion set) 30° flexible soft cannula, Automatic insertion, Transparent window at the insertion point, 13mm cannula, 23" and 43" tubing
VariSoft™ Infusion Set (formerly Comfort and Comfort short infusion sets) 30° flexible soft cannula, Manual insertion, a Small window in front of the cannula shows when the soft cannula is inserted properly, a Built-in adhesive is strong yet hypoallergenic, Visible and audible connection and disconnection confirmation, 13mm and 17mm cannulas, 23", 32" and 43" tubing
TruSteel™ Infusion Set (formerly the Contact Detach infusion set) 29 gauge, 90º stainless steel needle, manual insertion, Additional adhesive pad offers extra protection against dislodging, 6 or 8 mm cannulas, 23" and 32" tubing. These tend to be the easiest to insert, easy to wear, and they have fewer issues with clogging and none with kinking.
All in all, a well-designed and easy to use pump that is expected to stand out even more over time as software updates arrive.