Part memoir, part sports adventure, Not Dead Yet tells the inspirational story of Phil Southerland's battle with Type 1 diabetes and how from diagnosis to sheer determination, Phil Southerland beat all odds and turned his diagnosis and his passion for cycling into a platform. From leading a Race Across America to now managing a world-class cycling program, his journey on and off the bike is changing the way the world views diabetes.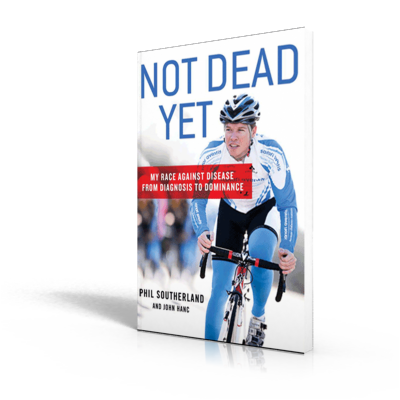 When Phil Southerland was seven-months-old, he lost ten pounds in a week, his body was limp and his breathing slowed to what his mother called a "death rattle." Rushing him to the ER, she was informed that tiny Phil displayed the youngest case of diabetes on record in the world at that time.
Blindness, kidney failure and death were all predicted for him by age twenty-five. Twenty-nine years later, not only is Phil alive and well but as the founder of Team Type 1, he and his team of championship cyclists — many of them diabetics—have become health and fitness role models for people the world over.
Together, they have taken on some of the most challenging endurance events in the world, including winning the Race Across America—a grueling 3,000-mile endurance competition—twice. Today, Phil continues to lead Team Type 1 as its professional cycling team, among one of the top 30 teams in the world, races toward an invite to the world's top cycling event, the Tour de France in 2012. Leading the pack is a serious challenge for any athlete, but for Phil and his teammates, it presents two daily battles: one to stay in razor-sharp race-fit condition, the other, to stay alive.
Not Dead Yet is Phil's powerful story: his account of his relationship with his mother, and how she struggled to keep him alive; growing up quickly in the New-Old South of the 1990s, learning at the tender age of 6 years old how to check his glucose and give himself injections; of how he fulfilled his dream of becoming a professional athlete using his team and the bike as a platform, inspiring thousands of individuals and families around the world who are battling diabetes to not just chase, but catch, their dreams.
Only
$18.99
Order securely online with us or call (800) 988-4772.