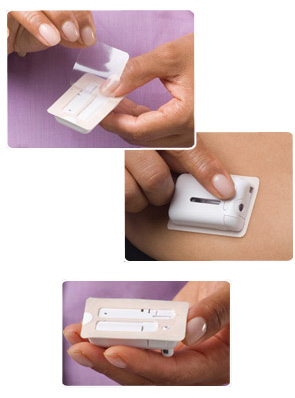 The V-Go is a simple-to-use, once-daily, disposable insulin delivery device that provides a preset basal rate and on-demand bolus dosing. The V-Go allows you to conveniently and discreetly deliver insulin. The h-Patch technology is also being developed to serve as a launching platform for applications across a wide spectrum of medical needs. The original h-Patch product (BIDS) received 510(k) clearance in 2005 and based on improvements to this technology and its filling device, a new 510(k) for the V-Go and its Filling device was submitted and is currently under review by the FDA.
The device is fairly simple to use. Peel the protective liner from the adhesive backing, apply the device to a part of the body where it can be easily reached, and push the start button. A micro-needle is automatically inserted and begins the basal flow of insulin. When a meal-time bolus is needed, a bolus button on the h-Patch system is pressed once for each unit of insulin. This can be done through clothing. Thats it!
When the system is removed, the micro-needle retracts, locks in place, and cannot be redeployed. This makes it easy to dispose of with no need for sharps disposal. The h-Patch system is designed to be replaced every 24 hours, allowing patients to rotate site placement and minimize the risk for local infection. An obvious concern is how much each disposable unit will cost. Prices have not been published as yet. Stay tuned.